You're viewing: Home >>Black Tungsten Wires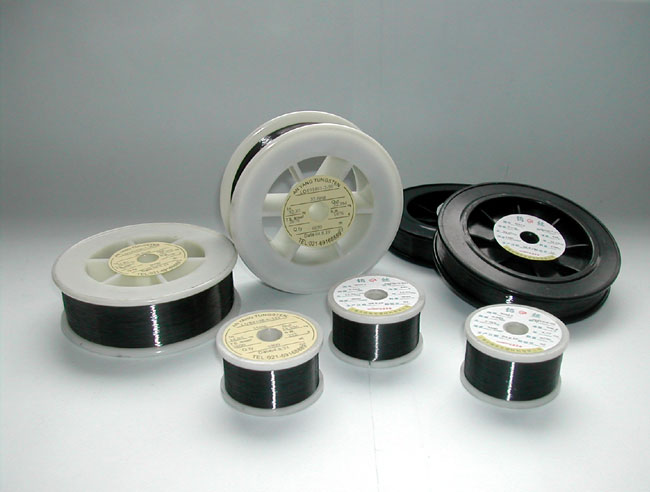 All wires showed here are black tungsten wires and manufactured by the high tech of doping, acid washing, isostatic pressing, PLC controlled direct sintering, swaging and auto feeding. Black tungsten wires are featured with minimum formation at high temperatures, high recrystallization temperatures, uniformity in dimension and excellent coil ability. For tungsten rod weighing 3kg/pc, its rough welding black tungsten wire weighing 5kg/pc. Customers are allowed to choose various types of black tungsten wire in accordance with their specific applications.
Diameter
µm
Weight
mg/200mm

200mm weight tolerance%

Diameter tolerance%

0

I

II

I

6<d<18

0.12-0.98

-

±3

±4

18<d<40

>0.98-4.85

±2

±2.5

±3

40<d<80

>4.85-19.39

±1.5

±2.0

±2.5

80<d<300

>19.39-272.71

±1.0

±1.5

±2.0

300<d<350

>272.71-371.19

±1.0

±1.5

350<d<500

±1.5

±2.0

500<d<1800

±1.0

±1.5
Type Application of black tungsten wires
Type

Application

STW91

For making filament, shock-resistance filament and other high-temperature-resistance devices, ect

STW71

For making auto lamp filament and other anti-shock devices.

STW61

For making coiled-coil filament, ect.

STW31

For making coiled-coil or trispiral CFL filament, incandescent filament and support, ect.

STW41

For making stranded black tungsten wiretungsten heater element, ect.

.

STW42

For making stranded tungsten wire, tungsten heater element and other no special temperature required devices, ect.

STW11

For making electrode and lead, ect.
The important applications of black tungstne wires are for the production of coiled incandescent lamp filaments, cathode and support structures for power tubes, heating elements for high temperature furnaces and evaporation sources in metallizing processes. Thicker wire sizes, straightened, finish-ground and cut into rod pieces are widely used for glass-to-metal seal lead parts in the lighting and electronic industries.
If you have any interest or questions about our products , please feel free to contact us by Email:sales@chinatungsten.com">sales@chinatungsten.com or by telephone:86 592 5129696.